Fundamentals of Musculoskeletal Ultrasound
Course Director – Dr. Jon Jacobson
Register Below for Comprehensive Musculoskeletal Ultrasound Courses
Register Today for the Fundamentals of Musculoskeletal Ultrasound Courses
I write today to inform you that after careful consideration, the Fundamentals of Musculoskeletal Ultrasound course scheduled for April 4-8, 2020 in San Diego, California will be postponed until September 19-23, 2020. This is in recognition of the growing global health risks posed by the COVID-19 virus. I feel it would be irresponsible on the grounds of public health to proceed with the course at this time. In addition, with worldwide travel restrictions affecting attendance with both attendees and faculty, we feel that we cannot guarantee the high-level quality expected from this course. It goes without saying that this decision was not made lightly, but when we cannot fully guarantee the well-being of our attendees, partners, and staff, we feel it's the right decision to make.
The course in September will be a fully equivalent version and the program lay-out will remain the same. The MSK registration office will send you a confirmation stating your tuition has been transferred to the rescheduled dates, so you may rebook your travel accordingly. We urge you to cancel your current hotel arrangements at your earliest convenience to avoid fees. Most hotels allow full refunds if cancelled prior to 72 hours in advance of your arrival.  In regard to your flight reservations, we cannot guarantee that all airlines will offer full credit, but we will be happy to provide any necessary documentation that may assist you.  We are unable to reimburse for any fees that may be charged by airlines or hotels.
We would like to express our appreciation for the enormous efforts and support of our partners involved in our course. We hope that we can count on your commitment and flexibility during this challenging time and we are confident that with your support we will still make MSK San Diego successful during the new dates in September 2020.
Should you have any questions at all, please contact Christina Espiritu at christina@veritasmeetingsolutions.com. Thank you for your patience, understanding and continued support and we look forward to welcoming you to San Diego in September.
With kindest regards,
Jon Jacobson
September 19-23, 2020
Omni Hotel
San Diego, California
This 5-day course that will include lectures and supervised hands-on workshops each morning, and open scanning each afternoon. The course begins at 7 a.m. on Saturday and ends at 11 a.m. on Wednesday.
Hotel Booking Cut Off Date: August 19, 2020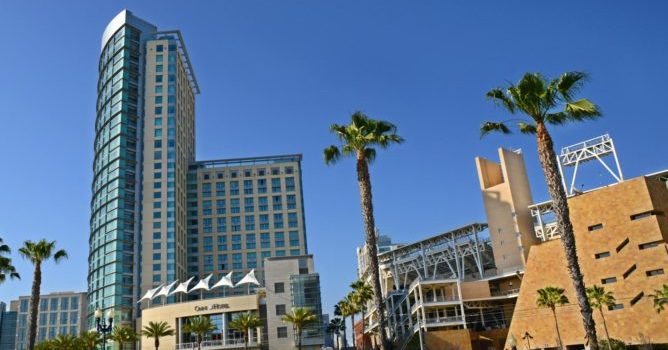 These courses will be of interest to radiologists, ultrasound technologists, and others in fields related to the musculoskeletal system. Those without musculoskeletal ultrasound experience, as well as those wanting to refine skills are welcome.

Course Tracks
Concurrent Tracks with Electronic Course Syllabus Included.

Course Benefits
Recognize common pathology fo the musculoskeletal system as seen at ultrasound;
Become familiar with ultrasound-guided interventional techniques

Technology
Opportunity to Use and Compare Several Ultrasound Machines from Various Companies. Additional Independent Scanning Open to Participants Each Afternoon.

Why Register
Limited Registration to Ensure Ample Hands-On Experience and Close Supervision. Continental Breakfast Included Each Morning.